We're in the home stretch, supposedly, we're still having hiccups on the exterior but on the interior we're basically to the point where all materials are here, they just need to be installed.
The very first countertop was just installed, that was a bit of a fluke though, the rest are several weeks out. As of now though we have the master bathroom cabinets installed (and they have been for a couple weeks), the kitchen ones are in process. We've had the lowers installed, including my absolutely massive island, but the uppers were apparently measured wrong so there are problems. But that shouldn't interfere with the countertop being measured and getting into production. We've also had vanities installed in two of the bathrooms, one of which also has it's countertop.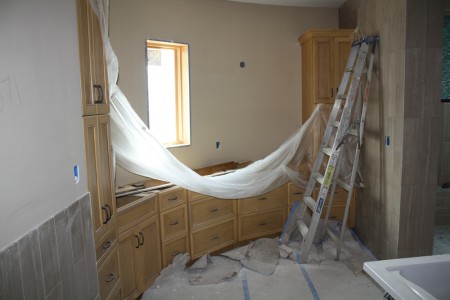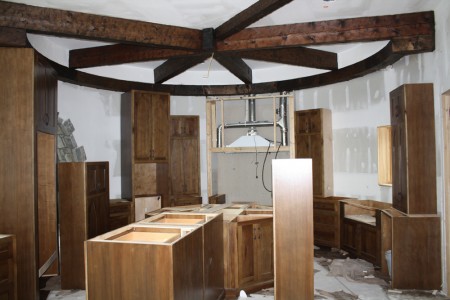 Meanwhile paint has started and is ongoing, and painting includes also staining all the wood, and there is a lot of wood. This is another thing I want to talk about where we get the "castle price."
So way back when I call this place for a quote for us to put into our budget for paint. He tells me on the phone it is a dollar a square foot, and he says it somewhat defensively like I will claim it is too much. I say "of wall area?" He says no, of floor space. If you have a 3,000 sq/ft home, it is $3000, and that includes walls and ceilings, and all wood and wood trim. I say "Are you sure, it's a castle with high ceilings and lots of trim and its huge." He says, doesn't matter, a dollar a square foot.
I still don't believe the guy so I double it and put that number into our budget.
This guy isn't some fly by night guy, he is the biggest in town he'll tell you, he drives a hummer, he has tons of crews out working for him. So I figure he knows his stuff. So we have (had, actually some space was sacrificed on the altar of the budget) 13,000 conditioned space which would be painted, and so I had doubled the budget number for paint to $26k. This guy comes back when we actually need him to finalize his quote, his original estimate of $13,000 became $75,000 when he saw the castle.
I'm not a crazy person, nor am I made of money, nor am I uneducated. I didn't win the lottery and had no clue how much things cost. I'm a small business owner who built my business scrapping and bootstrapping all the way, I'm intelligent, educated, and a compulsive researcher. I know when I'm being bamboozled. I had most of my house painted before we moved here, it was a much smaller house, 2200 sq/ft, but we painted most of it, two coats, and we had really bright paint underneath and were going to light neutrals so it took a lot of paint to cover, and we had all this complex trim in that house they had to cut in against, it wasn't new construction with the big open areas. This painter we hired was very professional, he also drove a very nice truck (Ford Superduty with lots of chrome), and had multiple crews. It cost me $1200.
We went and got another paint quote, this guy came in at under $35,000 dollars, and he was doing more than the $75,000 guy, who only committed to one coat of finish on all the wood (the cheaper guy is doing 3 coats), and wasn't using the products I wanted either. So guess who we went with? And the less expensive guys are doing a fine job, and they are very professional, and it is still a larger company with multiple crews. All the drywall is getting primer and at least two coats, all the wood is getting stain and three coats of finish.
What products am I using?
For paint we're going with eggshell latex paints. I tend to like glossier paints, I like both the look at their durability and ability to not show my kids fingerprints etc, but I get that they're not trendy. In my old house we used all gloss or semigloss, so going down to eggshell is less glossy for us. Also I think the glossier look is more period accurate. I let the kids pick the colors for their rooms and bathrooms, and I picked different colors for some of the other bathrooms. For the walls in 90% of the house we went with a bright white color called Swiss Coffee – this is also period accurate as well as white washing walls was about all they did back then. So the main colors of the house are dark grey stone, dark brown wood, and bright white.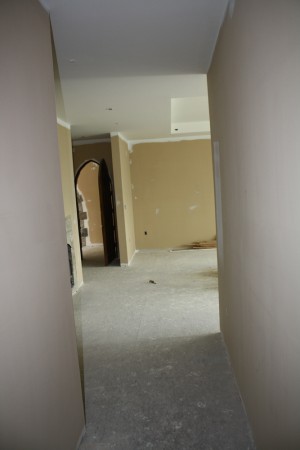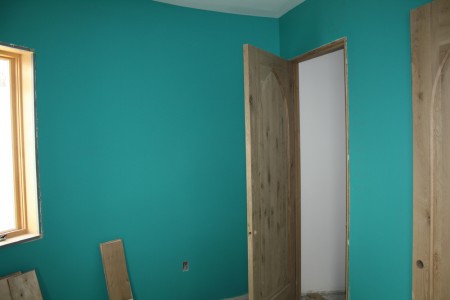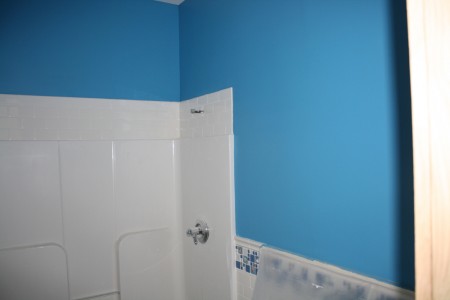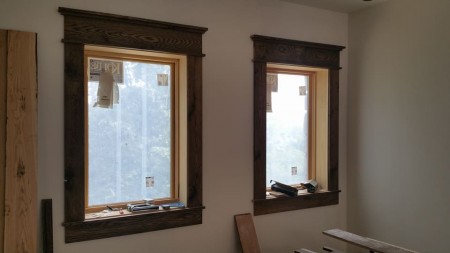 For stain we're using Minwax's Jacobean stain, and then for a sealer we're using one coat of amber shellac and two coats of clear shellac. Shellac is a glossy wood top coat and sealer made from shell secretions of the lac bug that are ground and suspended in alcohol. It is one of the oldest known wood finishes and so is period accurate. It also gives off no bad VOCs or odors. When applying it smells like whiskey, it is safe enough to eat in some forms (in fact it is used on food and as a coating for pills, the stuff you put on your wood might have additives so I wouldn't drink it), and it dries in minutes. Polyurethanes take hours to dry, during which time debris can fall on the wood and mar the finish. This also helps with labor. If you're shellacking a door and start at the top, by the time you get to the bottom the top will be dry. It is also spot repairable. If you have polyurethane finished wood and you want to repair a damaged spot or scratch, you need to do a lot of sanding and or refinish the whole piece, or you'll have a bump. With shellac you just slap on some more and it merges with the lower coats, it takes seconds. I really like using it and I'm surprised so many people don't know about it. Clean up is also easy, just use ethanol.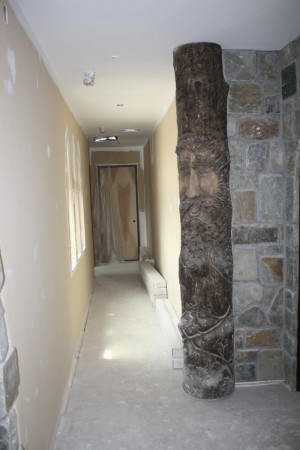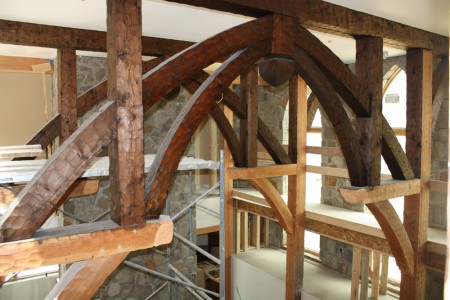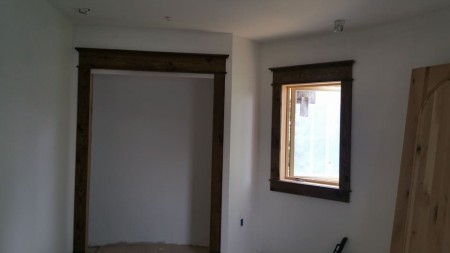 It comes in both clear and amber, I am using one coat of amber and two of clear because that gives just the right color I like. The only downside of shellac is it doesn't stand up to water near as well, especially repeatedly getting wet or having standing water. So you shouldn't use it on a floor, and I am not using it on my windows which could be left open in the rain or get condensation drips. On the windows frames we will use polyurethane.