Its been 6 weeks or so since the main roof was finished and we've been waiting, and waiting, and waiting, on our copper. The copper supplier's machine broke or something and we were stuck waiting for a replacement.
They've been getting worked on for a week or so now though and I didn't want to post about them because thousands ($$$$$) of dollars worth of copper sitting on the ground where we've already had thefts….. I'm sure all you readers are honest but still. Now though the copper is installed and 70 feet in the air, so, I think we're safe from theft. Tristate Roofing did the installation on our copper, just like our flat roofs.
So, to recap, some blocks were leveled and a custom curved heavy steel tube was brought up to the site at the exact radius of the towers. This tube was set on the blocks and light gauge steel truss work was built on top to create the conical shape. This was then sheathed with layers of plywood and covered with roofing underlayment, then, mostly, covered with copper roofing panels. Leaving a few gaps to provide an area for the crane to hold onto it. Then, this morning, the whole assemblies (20 ish feet wide, 12 feet ish tall, and weighing god knows how much) were lifted up into the sky by a crane and placed down precisely on top of the steel framed wall built to accept them.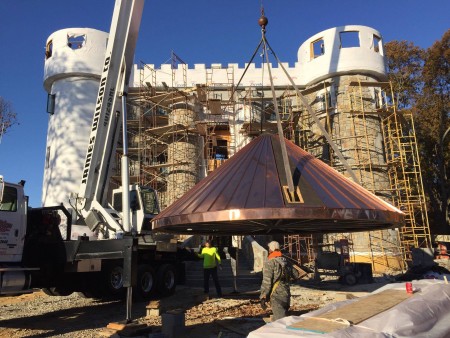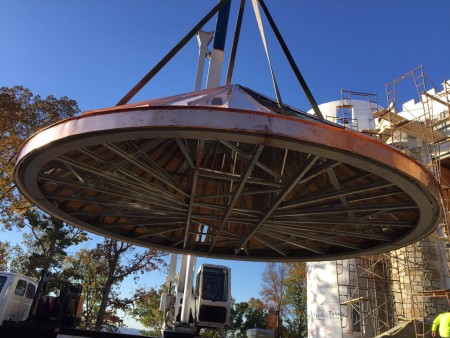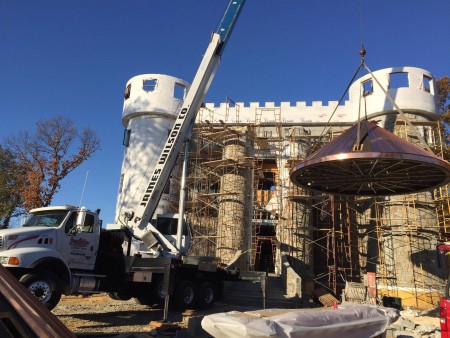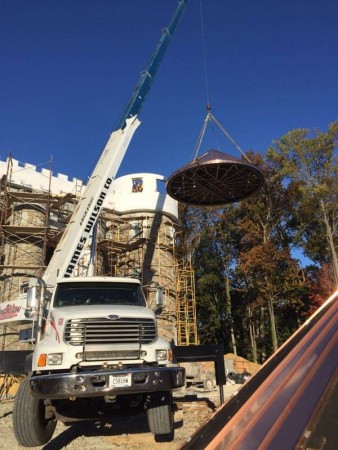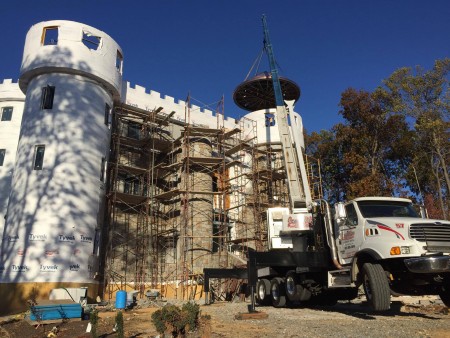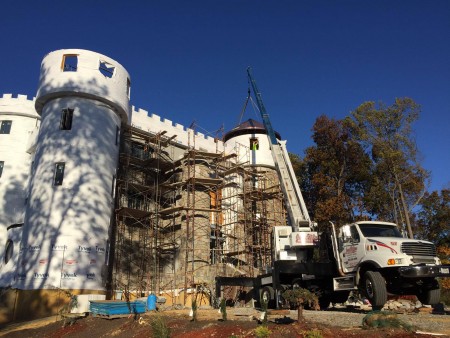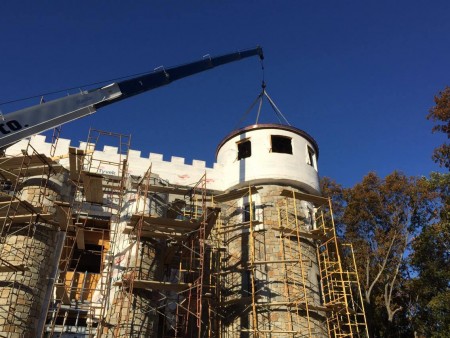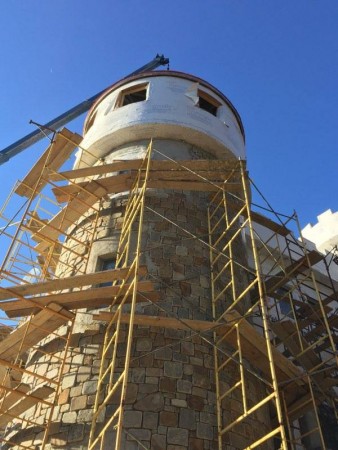 After they were put in place the workers added the few remaining missing copper panels, and I got some pictures.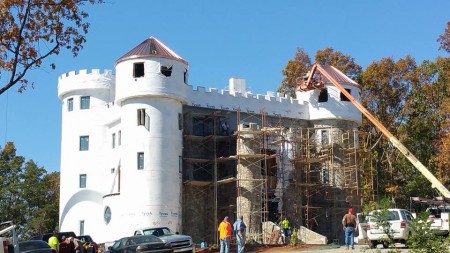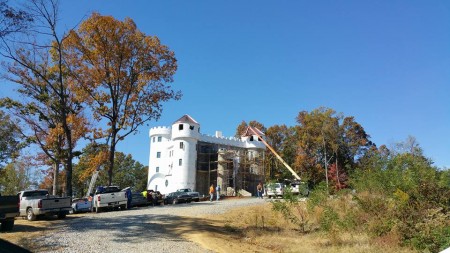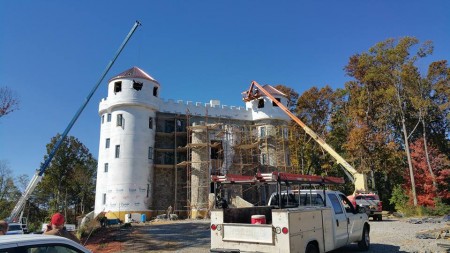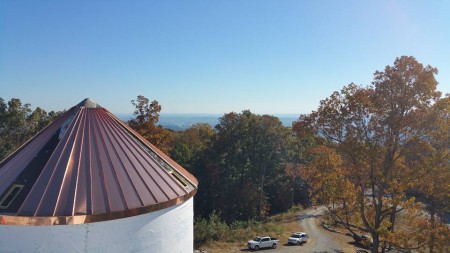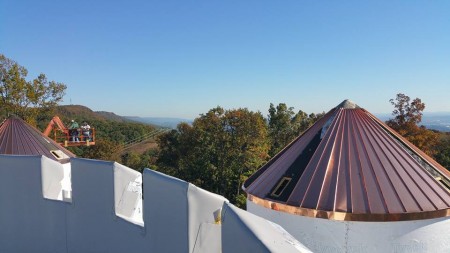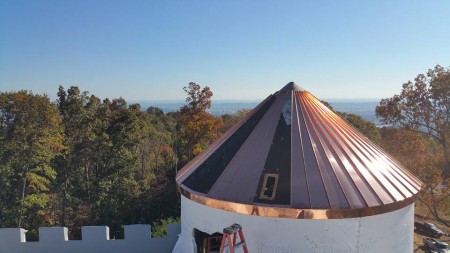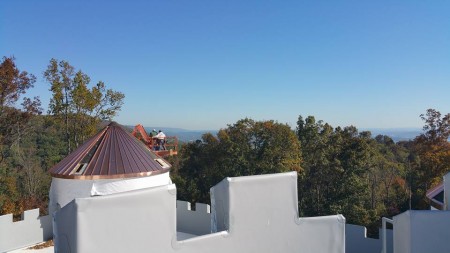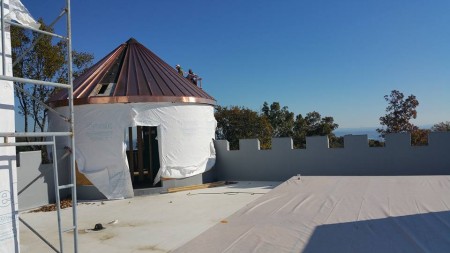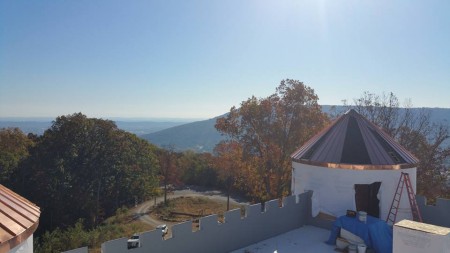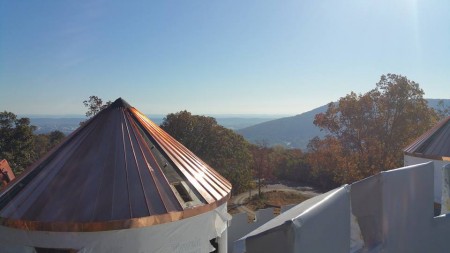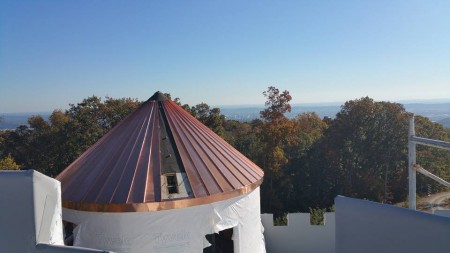 Meanwhile, fortuitously, our big heavy custom iron doors were delivered yesterday, so the crane was used to lift them on to the floors on which they belong, from which they can be wheeled into place. Some of these doors are 500 pounds or more, very solid, built to keep the marauders out.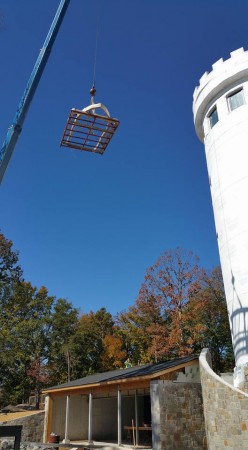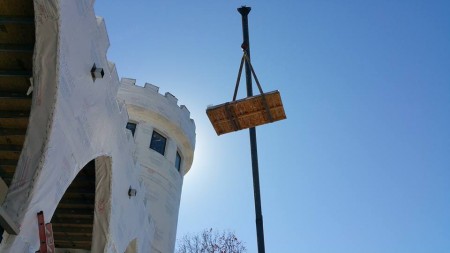 In addition to the doors being delivered yesterday, and the turrets going up today, on Thursday or Friday our greenhouse and skylight are supposed to be delivered/installed. So that is exciting as well, a very busy week.
In other news:
The plumbing rough-in is almost done.
The electrical rough-in has started.
The fire sprinkler rough-in has started.
The HVAC rough-in doesn't even have a plan yet


Rainwater catchment system is complete (future post about that)
Masonry heater is complete (but not finished with veneer yet – future post)
Ceiling beams are all installed in the 1st floor family room (future post)