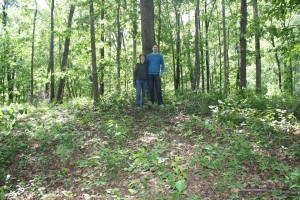 You can call me Ishmael, and I'm building a castle.
I'm a bit of a nerd, and I've had a lifelong dream to build a castle, something you'd see in Europe, on a mountain, overlooking a river, but in the mountains of Tennessee. Luckily I met a woman who was fine with that dream as well, liking mountains herself.
Luckily as well I have been successful enough that this is going to become a reality, and I still get giddy when I think about it.
We live in Michigan now, and are moving to Tennessee in 2015. We've purchased land there, the point of a ridge, at 1640 feet it is the highest point around with views of nearby mountains, the nearby city, and river. Also, being a point, we really should have 360 degree views when things are all said and done. It should be breathtaking.
Right now we just have to imagine the view. I found the land using Google Maps, looking for privately owned land with height that doesn't have any buildings on it yet, and that wasn't part of a homeowners association, which would have blocked the construction.  I found this lot that wasn't for sale in an area that most locals did not know had any private land (they thought it was all state owned). I contacted the owner though and was able to come to a deal for it.
One of the nice features of the land is that it is heavily wooded with old growth hardwoods. The largest oak has a 40 inch diameter, and it is mostly oak and hickory. These trees are beautiful and majestic, the kind you'll only find in a hardwood forest where lack of light has naturally limbed them up. We're saving the oldest and the biggest and once they're thinned it will look like a park that has been there hundreds of years. However, we can't see the view from the building site because of all the trees. So I used Google Earth to hover over the point and turn a full circle to see the view from all angles, and from the highest towers it should be tremendous. Since we're building on the high point we'll be able to leave the trees at lower elevations and still get the views. The site is simply perfect.
Our castle will be gothic-norman in style, and be highly energy efficient. I hope to have very small utility bills. More on those topics later.
This blog will chronicle the journey going forward. We're having plans done by an architect, will start clearing the land this winter (hopefully at a profit with the value of the lumber) and we aim to start construction in 2014, for a summer 2015 completion date.