So much design thought lately has been going into what we want our kitchen to look like. I do all the cooking in our house, so I definitely have my own ideas. We also want the kitchen to look fairly period correct. Rustic, old, but not lose function.
We've made some decisions, we are going to do a grey flagstone floor throughout the whole 1st floor, and will continue that into the kitchen.
We are leaning strongly toward a soapstone countertop with a chiseled edge like in the below picture. Probably a soapstone farmhouse style sink as well.
We want stone work on either side of the range and surrounding the hood.
For cabinetry we want to go with a rustic oak, full inset cabinet doors, lots of drawers & pullouts vs. fewer doors. Some glass insets on the uppers.
Overall, our favorite kitchen we've found is the below picture: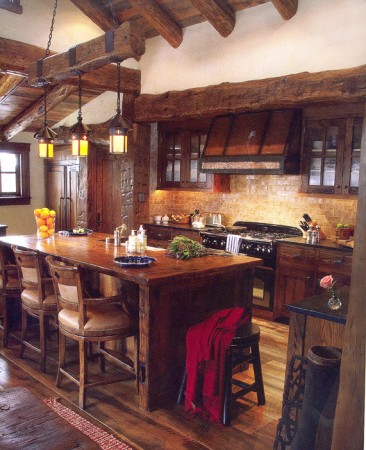 We like all the little details about this kitchen. We'll use the stone flooring, and we'll put the stone countertops on the Island as well, and we want the stone around the range. But we do like the backsplash here, the wall colors, and especially the use of beams, especially that big rustic soffit beam.
A problem is our kitchen is in a tower, and so is round. This makes everything harder and more expensive. Today I've been trying to get an
estimate on making a beam that we can use like that soffit beam in the picture, but having it be curved as needed.