The interior stone is basically done.
There is a lot of it, it ended up being something around 6,500 sq/ft of stone just on the inside. We had real trouble getting masons situated started around New Years. Our original mason, Accent Masonry, had to be fired/quit it was sorta mutual. I thought he (Josh, the owner), left in good spirits. He had agreed to a price and was working at that price, but only very very slowly, not sending the men up necessary, and even though we had an agreement we gave him an increase to try to make things better, and it really didn't. Then we finally put it to him that we needed him to send more guys to finish and he said he would have to walk off and we sort of made it mutual, he claimed to be losing money, and we were losing time, and it wasn't working out for either party. So I thought it was on good terms. I think the overall reason why he didn't work out is he was never on site, just his guys, and they took a lot of breaks. He was paying them hourly but we paid him by the foot so without him there keeping them motivated and on task their pace suffered greatly.
Then we were going to hire this other guy, only this other guy didn't really have employees in so much as he coordinated crews and acted like a middleman, which was okay, except he kept promising his crews one thing and they would show up, look at the job, and not want anything to do with it. But this guy kept telling us he could do it for us. So we told him okay, but he kept not delivering.
Meanwhile, the original mason, Josh, allegedly sent the below text to the new guy.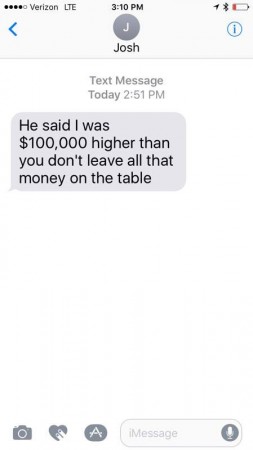 We didn't end up going with the new guy, he couldn't in the end deliver the workers at the agreed upon price, but he was nice enough to forward this text to my builder. This is the sort of stuff we've had to deal with. After he left Josh gave us a price to get him to come back, then he allegedly attempts to collude with this other mason about raising prices.
Of course it's also possible this other guy faked the text somehow as a negotiation tactic, we don't know, we couldn't be sure, we were tired of both of them. They seemed to us to be fighting over the job with us in the crosshairs.
So our stone work is at a dead standstill and we're trying to find new guys. Originally we were paying $6 a sq/ft for labor, and we had found 3 masons to agree to that price before we went with Josh, then we gave him a bump to $6.5, and then he left, we had guys quote us $15, or one guy quoted me $23. I wonder if he thought I was an idiot or couldn't do math. I'm not a lottery winner, I'm an educated successful self made man, I can do math, I can read financial statements, and I even sometimes do for fun. So this one guy quoted us $23 a square foot and says he pays his guys $7 take home pay. Like I say, I'm not an idiot, I know by talking to masons, local and out of state, and reading articles from Masonry Magazine and trade publications, I know how much a mason can lay down in a day. It supposed to be between 100 and 200 sq/ft, per guy per day (with a tender, some lower base laborer guy fetching and carrying). Even Josh's guys who were slow, according to Josh, did 50 sq/ft a day. So if I remember my third grade multiplication correctly that means this guy is paying his workers $350 to $1400 a day. With 260 work days a year at the low end these masons are making $91,000 a year, at the high end $364,000, per guy, per year. It was all I could do not to laugh in his face, I waited until after he left. We get these ridiculous "castle prices" sometimes, yet another thing to deal with.
Finally we found a real winner in a mason named Samuel Hernandez. He had previously worked for a larger commercial outfit and recently struck out on his own. He has had his workers and arranged other crews and gotten them up to the site and cruising on the stone, stone is simply flying up, they seem to be working 4-5x faster than Josh ever did.
Most importantly the interior stone is finished, and for a long time I was worried that the rest of the house would be done but the stone would still be going on. I no longer worry about that. However our masons are going so fast we're running into other problems in that now the stone supplier is having trouble keeping up with the window trim pieces we need to keep things rolling, and we also need to find a contractor to install our corbels that go around the cantilevered battlements.
So, here are some pictures of the completed interior stone: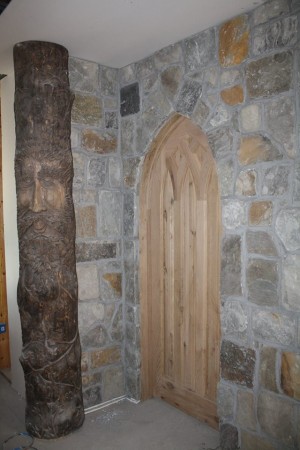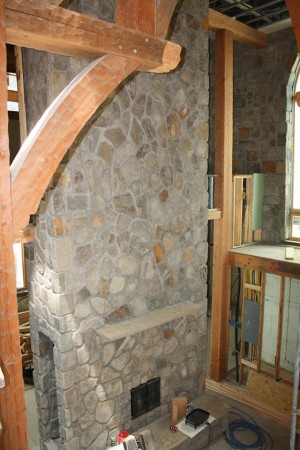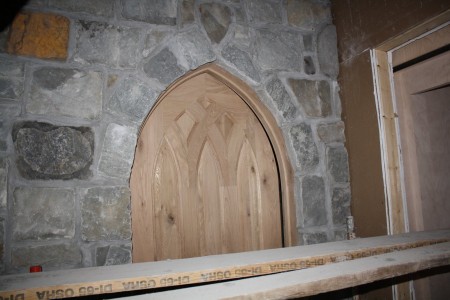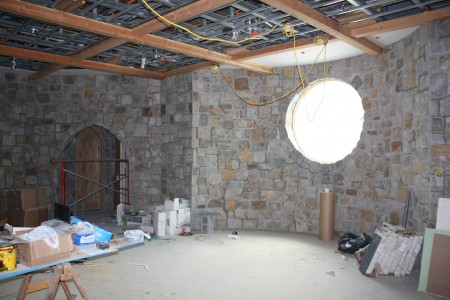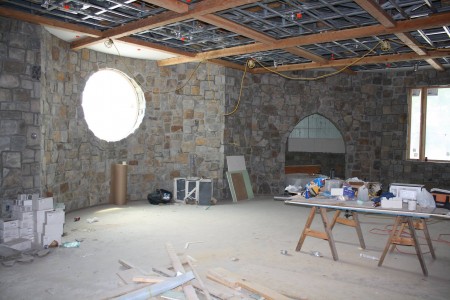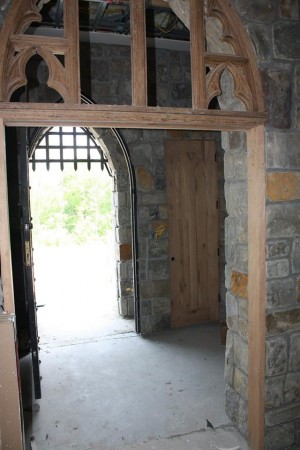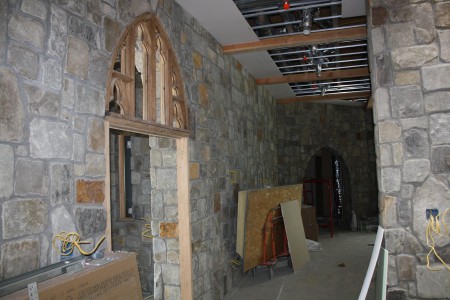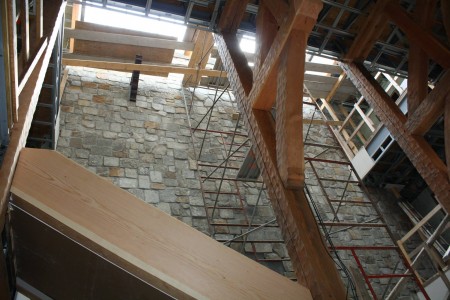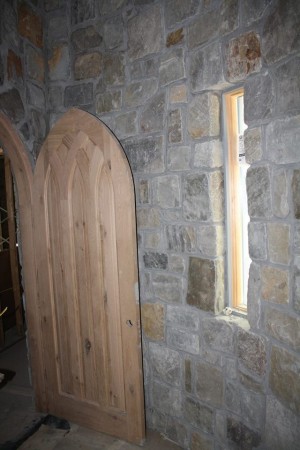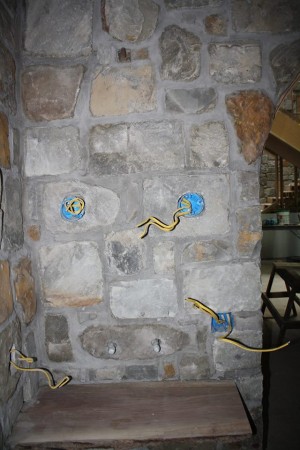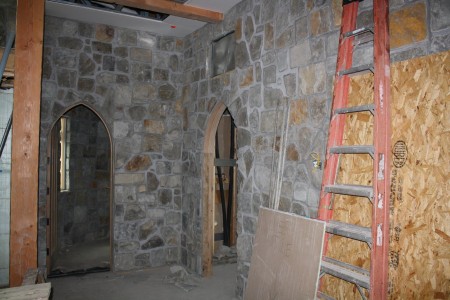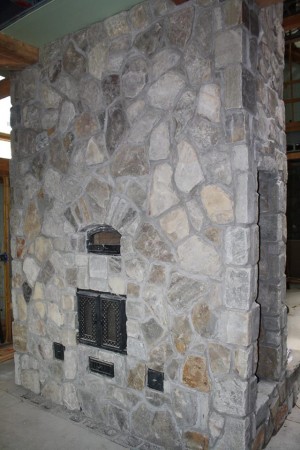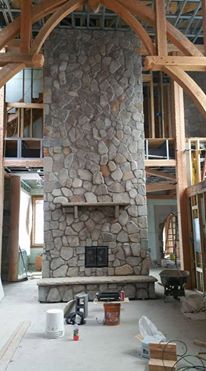 And here are some pictures of the exterior stone progress.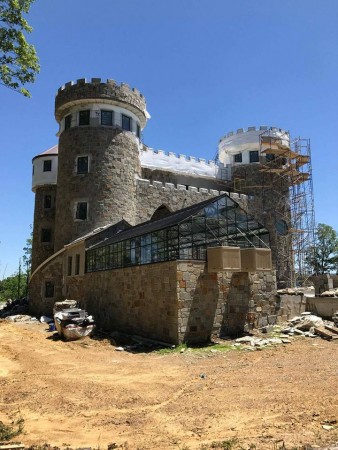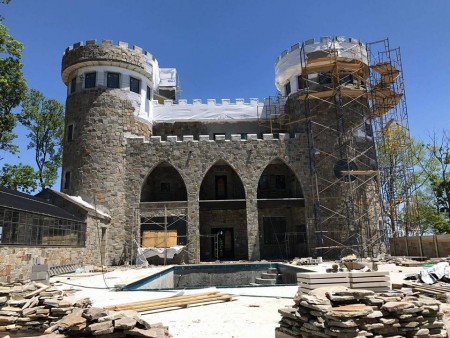 I don't even know how many tons of interior stone we have, but think of what all that mass does to the building. For the sun to heat it up it first needs to heat up the stone on the outside, then go through an inch of mortar, 2 inches of foam, up to 14 inches of concrete, 2 more inches of foam, another inch of mortar, and two more inches of stone. Stone is a good conductor of heat, but it also simply absorbs energy, it banks it. Its why you can put a hot pan on a granite countertop. This is why you can visit an old castle or old church in the middle of summer and it can be cool inside. I've been up there when its 90 degrees out and our air isn't on yet and its quite comfortable inside. I worry our HVAC loads are going to end up totally oversized because building with so much thermal mass is so outside the norms that their models didn't account for it. No matter how hot it has gotten outside, I've never gotten hot while indoors at the castle, even before we had windows and doors and insulation, except in the greenhouse, which is supposed to get hot. Of course if you actually go outside on the roof on a hot day you will bake.
Overall I think stone is the single biggest line item in our budget, and perhaps rightly so, it is a castle afterall, but it is also totally worth it.