The 2nd floor is now done, I am working this weekend and haven't had a time yet to go and take good pictures of the views, but my builder sent me a lot of photos.
Today is February 20th. The 1st floor was finished on December 30th. 52 days. The first floor was 80 days, so this is an improvement, but I think we could have done better. The ICF went up really fast this time but the light gauge steel still took longer than it should have. We of course had some weather, but I don't know if there has ever been 50 days of good weather in a row anywhere on Earth so I don't think that is abnormal. The ICF was essentially done Feburary 3rd so it took 17 days for the steel and subfloor, when, under ideal circumstances, it should be about 8 days. Still, this is almost a full month faster than the 1st floor, a vast improvement.
The great hall is starting to take shape with our heavy wood trusses partially installed, I don't have good pictures of those yet, but with finally a ceiling, and not just sky, on the great hall the ceiling height is evident, and it is very impressive. The space feels really good on the inside, exactly as I had hoped, or better. Portions of the first floor are going to feel like a hotel lobby, and that was my goal.
Theoretically the third floor should take less time still, there is less in it, every floor gets slightly less as we go up. For the third floor the barbican (the front entry protrusion, the militant cousin of a foyer) goes away completely, and that seemed like it was always 3 days of work right there. The walls overall get simpler, with less variance in window sizes, and there is less heavy steel, and the light steel is also more uniform. Then the fourth floor drops away very strongly with only the towers getting that. So the fourth floor should be very quick. However as of right now the ICF crew is off the project working elsewhere on some other project, and I do not know when they will be back. This is most certainly not a good thing, it delays our critical path, but I'm sure the owner of the other project feels the same when they're working on mine and not theirs. If they were here and working I wouldn't be surprised if we could have the third floor poured by the first/second week of March. Then if we had the steel portion down to 2 weeks by April 1st at the latest we could have a 3rd floor roof/4th floor subfloor on. Then, really, I think the fourth floor could be done in two weeks, then say two weeks to roof everything, maybe May 1st we could have a roof on the whole structure. But with this ICF delay I'm not sure.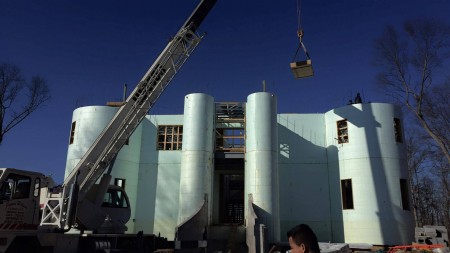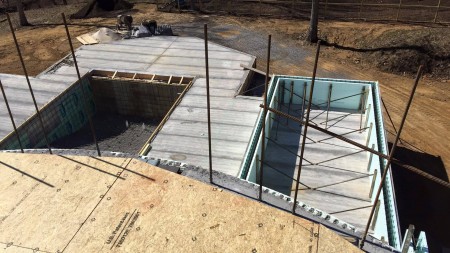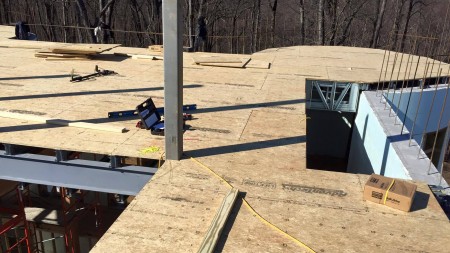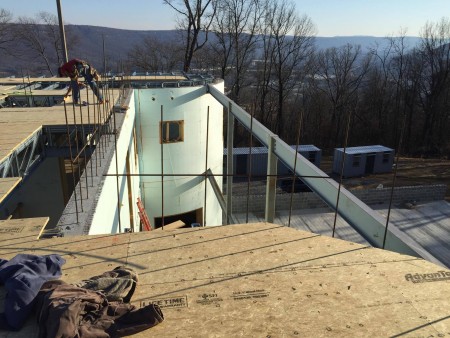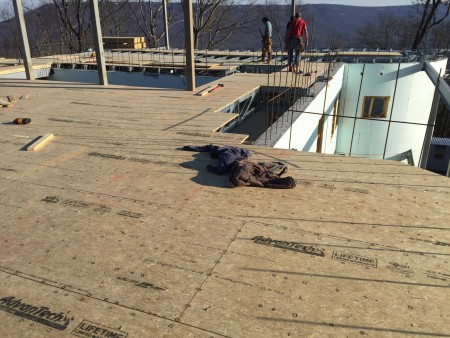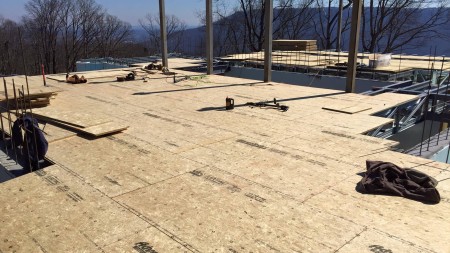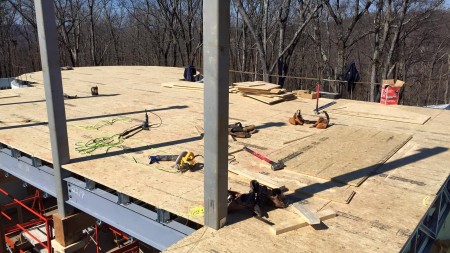 The greenhouse base and breezeway are done (well, blocks are up, but not poured, ICF crew did this before they left). There was a slight delay there when the wrong blocks were delivered, but they spent that day building window bucks I think so weren't idle. The breezeway, seen to the right, holds a bathroom for people using the pool, as well as it connects the kitchen to the greenhouse and the pool patio. It is very much going to be a bit like an indoor/outdoor room, though still fully insulated.